N2O2 Has a New Look
We've Updated Our Website to Provide a Better Experience

Compressed Air Audits
Learn About Our Compressed Air Audit Services
Customized Compressed Air & Vacuum System Audits
N2O2 is dedicated exclusively to the field of compressed air systems and offers specialized services such as compressed air audits. Our expertise covers all aspects of compressed air systems, encompassing compressors, aftercoolers, dryers, receivers, distribution piping, and the optimal utilization of compressed air within manufacturing processes. The methods and techniques we use are also applied to vacuum systems.
With a focus on compressed air and vacuum systems, we have established ourselves as industry experts. This specialization allows us to provide exceptionally high-quality assessments, including comprehensive compressed air audits, and a wide array of system evaluation services. Additionally, our services set us apart from full-service engineering firms that typically lack in-house expertise in compressed air systems.
Benefits of a Compressed Air System Audit
Reduce energy and repair costs
Improve system reliability
Increase productivity
Reduce unscheduled downtime
System Design & Performance
The goal of system design is to provide the end user with their true air needs, without sacrificing production. Each compressed air system is unique and requires a customized approach at each plant. N2O2 is proud of our methodology that is truly best in class.
30% Energy Savings - Often Higher
In the U.S., compressed air systems account for $1.5 billion per year in energy costs, and 0.5% of emissions. Many industries use compressed air systems as power sources for tools and equipment used for pressurizing, atomizing, agitating, and mixing applications.
N2O2 optimization of compressed air systems can provide energy efficiency improvements of 20% – 40% and sometimes higher with proper system design and management. Depending on the cost of power, these potential savings may exceed $400 million per year, nationwide.
When analyzing the five-year life cycle cost of new compressed air systems (see chart), 80% of these costs are energy and only about 9% involve the purchase of capital equipment.
We are the compressed air experts, therefore, we should and will bear the risk of the quality and performance of our work.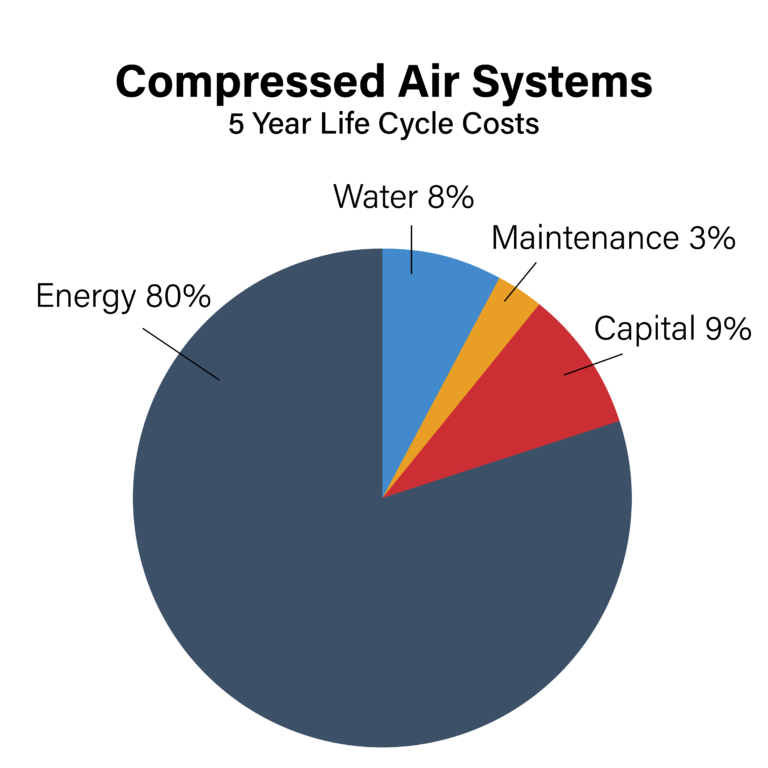 N2O2 is devoted solely to the evaluation of compressed air systems for all types of industries. Our organization was established to prove high quality technical resources in the compressed air field to clients that have a desire to optimize the performance of their compressed air systems. These services will provide our clients with a full evaluation of their compressed air systems to determine specifically what they need. This differs from just providing a quotation for equipment at the customer's request to satisfy and perceived need.